1 car carrier
per day
Our experience and competencies make it possible to manufacture an impressive 1 car carrier per day and collaborate with more than 40 satisfied customers.
Manufacture of car carriers
Over the last 17 years producing car carriers, over 2,000 of them have rolled off our manufacturing line. We think that's quite an achievement, considering we began with 23 car transporters in the first year of operation. With the positive feedback and support of our customers, we tripled our capacity in just 12 months, and our manufacturing volume has been increasing steadily ever since.
In order to serve that growing number of customers, we continue to invest in our manufacturing plant, equipment, processes modernisation, staff training and growth on a daily basis.
We have gathered and trained a reliable team of professionals with exceptional skills that ensure the quality of our products - professionals whose experience and competencies make it possible to manufacture an impressive 1 car carrier per day and collaborate with more than 40 satisfied customers.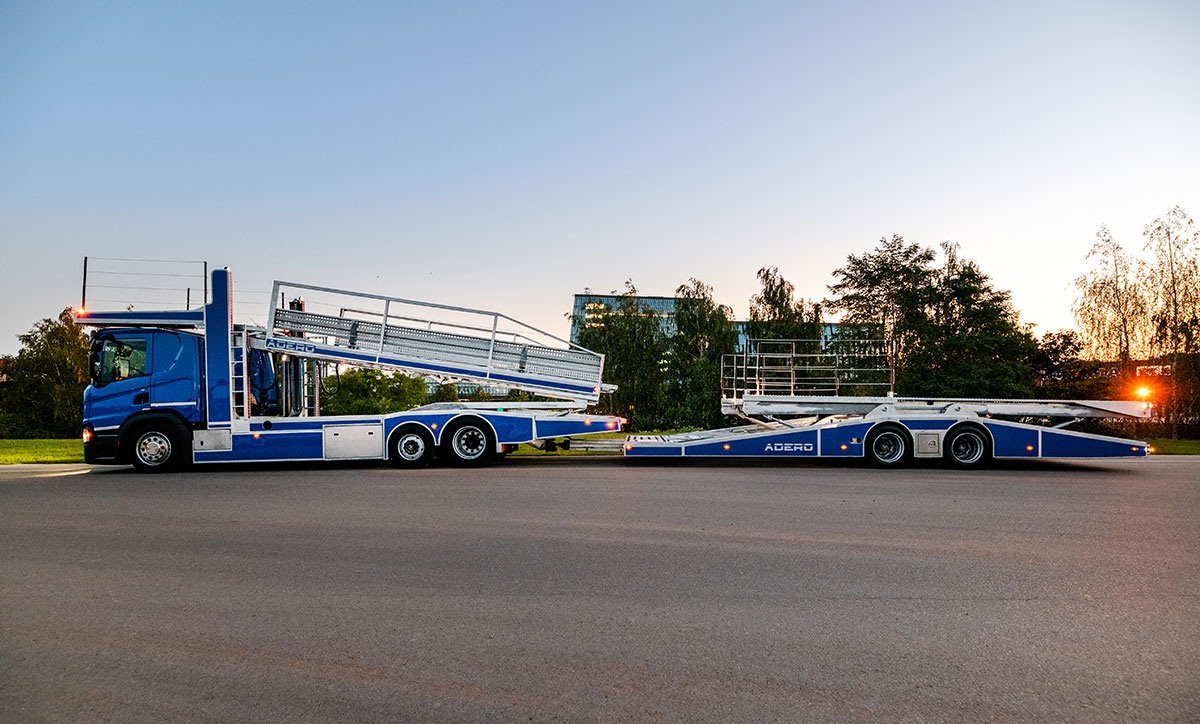 We already have a new car carrier on the market – meet ADERO!
Developed by an experienced engineering team and manufactured in our factory, this car carrier was developed and tested in our factory and on the road over 3 years. The final result is an advanced, environmentally-friendly, comfortable car carrier, safe on the road and while loading/unloading. It has already received positive feedback from truck manufacturers and our customers.
15% reduction in CO2 emissions.
Capacity: 21.5 tonnes.
Second deck fence opening.
RIMO's patented ridged car fastening system.
Here are
three reasons

why the technologically-advanced RIMO ADERO you'll definitely want it as part of your fleet!
Technological victories of RIMO ADERO – for innovative fleets
Additional lift axle.
Cut cab – better loading options.
Open 2-level fence coupled with a folding platform.
Spacious driver's storage boxes and storage for car transporter's work equipment.
Extra-long storage box between the axles.
Working LED lighting.
Rear lights with flexible mounting.
Maximum cargo weight of up to 21.5 t.
Maximum total mass of the formation of up to 41 t.
Driver safety and comfort
Remote control of the engine (start and stop).
Fast and convenient, 1st and 2nd level loading.
Convenient operation and hydraulic control from the standing position.
2 spare wheels (for trailer and tractor).
Technological advantages create value for your business
Excellent for heavy, wide cars and electric cars.
Reliable.
Fuel savings.
Fast loading/unloading.
Safe and secure.
Flexible loading options.
A strictly-controlled production process
The RIMO factory covers 12,000 m2 and we have just under 200 employees.
Four production departments work to make our car haulers a reality: creative (where we brainstorm and fine-tune our ideas), design (where we draw our solutions in detail), production and testing. The process is concentrated in one factory, meaning we control all stages of the trailer production process: from the initial design to assembly and testing. Every product we design benefits from our large team and the extensive experience of each employee.
Each stage is strictly controlled: from drawings, turning of details to individual assembly stages. To ensure quality, we work with a team of German experts who test our components and oversee the processes at the factory.